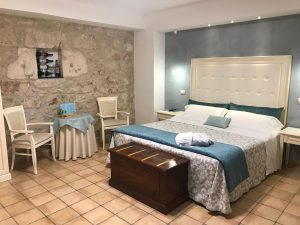 Prima che l'estate finisca, venite a passare qualche giorno da noi!
2 notti in camera emotional superior con doccia emozionale a € 160,00 con una degustazione di olio presso l'oleificio Gulino a Chiaramonte Gulfi + un prodotto tipico in omaggio.

Il prezzo è comprensivo di colazione a buffet, uso piscina outdoor con jacuzzi integrata, zona bassa per bambini e piccola zona aquafitness, area attrezzata barbecue, nolo bici e bici-risciò da 4 posti, ping pong, cyclettes, area pittura, calcio balilla, wi-fi nelle camere e nelle aree comuni (giardino, piscina), inoltre per chi ama leggere è disponibile una libreria con oltre 500 volumi.
Tutti i giorni dalle 16:00 alle 18:00  apriamo un tea time in cui sarà possibile gustare the, tisane ed infusi tipici della Sicilia meridionale (ad esempio alle foglie di ulivo, al carrubo, alla vite rosse, ai fiori di fico d'india etc..) accompagnate con biscotti e miele locale. Il costo non è incluso in quello del pernottamento.
L'offerta è valida per tutto il mese di Settembre
---
Before summer ending, let's spend some days in Artemisia Resort!
2 nights in double emotional superior room with emotional shower € 160,00. The offer includes  a olive mill tour and tasting at "oleificio Gulino" in Chiaramonte Gulfi + a typical product for free.
Rate is inclusive of breakfast buffet, outdoor swimming pool with integrated Jacuzzi and low zone for children, small aquafitness area, painting area, BBQ facilities,exercise bikes, bike rental, table tennis, table football, cycle rickshaw (4 passengers), Wi-Fi in guest rooms and public areas (pool, garden) and for those who love reading it's available a library with more than 500 books.
We are pleased to invite you every day from 16 to 18 p.m. to try teas and infusions typical from the Southern Sicily (as for example you can try infusions flavored with olive leaves , carob, red vine leaves, flowers of prickly pears etc.) combined to  local biscuits and honey. The price is not included in the overnight stay.
The offer is valid from 01.09.2020 to 30.09.2020
---
Avant que l'été termine, nous vous esperons icì en Artemisia Resort!
2 nuits en chambre double emotional superior avec douche emotionnelle € 160,00. L'offre comprend une dégustation d'huile au "oleificio Gulino" en Chiaramonte Gulfi + un produit typique gratuit.
Le prix comprend petit-déjeuner, l'utilisation de la piscine avec jacuzzi intégreé et des installations pour barbecue, service de prêt de vélos, tennis de table, baby-foot, vélo-rickshaw (4 places), une zone pour la peinture, connexion Wi-Fi dans tout l'établissement (chambre, jardin, piscine) et pour ceux qui aiment lire il y a une bibliothèque avec plus de 500 livres.
Chaque jour de 16h00 à 18h00, il sera possible de goûter des thés et infusions typiques du sud de la Sicile (aromatisé par exemple au feuilles d'olivier, caroubes, vignes rouges, fleurs de figues d' Inde etc.) accompagnés de biscuits et de miel local. Le coût n'est pas inclus dans le séjour.
L'offre est valable du 01.09.2020 au 30.09.2020
---
Antes que termine el verano, os esperamos para pasar algunos días con nonostros!
2 noches en habitación doble emotional superior con ducha emocional € 160,00. La oferta incluye una degustación de aceite en el "oleificio Gulino" en Chiaramonte Gulfi + un producto tipico gratis.
La tarifa incluye desayuno, utilizo de la piscina externa con jacuzzi, zona baja para los niños y una pequeña zona aquafitness, zona barbecue, bicicletas para alquilar, ping pong, cyclettes, zona pintura, fut-bolín, wi-fi en las habitaciones y en locales comunes (jardín, piscina). Para los amantes de la lectura está una biblioteca con más de 500 libros.
Todos los días, de 16:00 a 18:00 es posible hacer una degustación de varios tè tipicos de Sicilia(por ejemplo tè con hojas de oliva, con algarroba, con vino etc) servidos con galletas, pasteles y miel locales. El costo de la degustación de té no está incluido en el precio de arriba.
La oferta está valida desde 01.09.2020 hasta 30.09.2020