1 NOTTE IN CAMERA EMOTIONAL SUPERIOR CON DOCCIA EMOZIONALE
+
1
MASSAGGIO DI COPPIA
                                                 +  
                        DEGUSTAZIONE DI TE SICILIANI 
                       € 159,00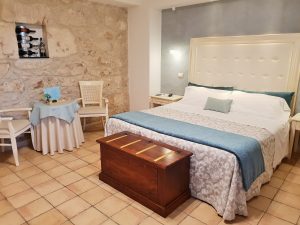 Il prezzo è comprensivo di colazione a buffet, wi-fi nelle camere e nelle aree comuni (giardino, piscina), inoltre per chi ama leggere è disponibile una libreria con oltre 500 volumi. Tutti i giorni dalle 16:00 alle 18:00  apriamo un tea time in cui sarà possibile gustare the, tisane ed infusi tipici della Sicilia meridionale (ad esempio alle foglie di ulivo, al carrubo, alla vite rosse, ai fiori di fico d'india etc..) accompagnate con biscotti e miele locale.
Offerta valida dal 04/11/18 al 22/12/18
---
1 NIGHT IN EMOTINAL SUPERIOR DOUBLE ROOM  WITH EMOTIONAL SHOWER
+
 COUPLE MASSAGE 
+
SICILIAN TEA TIME TASTING
€ 159,00
Rate is inclusive of breakfast buffet, Wi-Fi in guest rooms and public areas (pool, garden) and and for those who love reading it's available a library with more than 500 books. We are pleased to invite you every day from 16 to 18 p.m. to try teas and infusions typical from the Southern Sicily (as for example you can try infusions flavored with olive leaves , carob, red vine leaves, flowers of prickly pears etc.) combined to  local biscuits and honey.
Offer valid from 04/11/18 to 22/12/18
---
1 NUIT EN CHAMBRE DOUBLE  "EMOTIONAL SUPERIOR" AVEC DOUCHE EMOTIONNEL
+
MASSAGE DE COUPLE 
+
DEGUSTATION DE THé SICILIENNES
€ 159,00
Le prix comprend petit-déjeuner, Wi-Fi dans tout l'établissement (chambre, jardin, piscine) et pour ceux qui aiment lire il y a une bibliothèque avec plus de 500 livres. Chaque jour de 16h00 à 18h00, il sera possible de goûter des thés et infusions typiques du sud de la Sicile (aromatisé par exemple au feuilles d'olivier, caroubes, vignes rouges, fleurs de figues d' Inde etc.) accompagnés de biscuits et de miel local.
L'Offre est valable du 04/11/18 au 22/12/18
---
1 NÄCHT IM SUPERIOR EMOTIONAL EHEBETTZIMMER 
+
PAAR MASSAGE
+
SIZILIANISCHE TEE PROBE
€159,00
Der Preis bezieht das Frühstuck Buffet. Wenn sie gerne lesen, haben wir eine Bibliothek mit 500 Büchern zur Verfügung der Gäste.Jeden Tag von 16:00 bis 18:00 könnt ihr Tees und Infus typisch von südlichen Sizilien probieren (zum Beispiel diese Tee sind mit  Olivenblättern, Johannisbrotbäumen, Weinreben, Blume von Kaktusfeige,  etc .. gewürzt) beigegeben mit Keksen und lokalem Honig. 
 Das Angebot ist gultig von 04/11/18 bis 22/12/18
---
1 NOCHE EN HABITACIÓN "EMOTIONAL SUPERIOR" CON DUCHA EMOCIONAL
+
1 MANSAJE DE PAREJA
+
DEGUSTACIÓN DE TÉ 
SICILIANOS
€ 159,00
La tarifa incluye desayuno, wi-fi en las habitaciones y en locales comunes (jardin, piscina). Para los amantes de la lectura, tenemos una biblioteca de mas de 500 libros. Todas las tardes, desde las 16.00 hasta las 18.00 es posible hacer una degustacion de varios té tipicos de Sicilia (por ejemplo té con hojas de oliva, con algarroba, con vino etc) servidos con galletas y pasteles locales.
La oferta es válida desde 04/11/18 hasta 22/12/18